Industrial Gear Manufacturers in Ahmedabad
We are engaged in offering an extensive range of Gears. The gears offered by us reduce noise, pollution and give smooth operation. The use of qualitative material in manufacturing them provides spectacular strength and durability. Providing smooth and quiet run with less vibration, our gears have higher load capacity and are highly preferred in Indian as well as overseas market. These are manufactured using the best quality raw material as hardened, superior quality alloy steel to ensure maximum wear resistance and strength. We are striving hard to ensure premium quality products made from superior quality raw material which are procured from reliable source. These find their application in Oil companies, the Fertilizer industry and many more.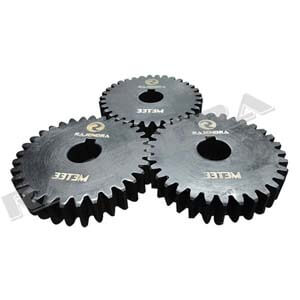 Gear Manufacturer in Gujarat
A gear also called a cogwheel is a rotating machine, which has got cut teeth. A cogwheel specifically has inserted teeth, which network with another toothed part to transfer torque. Geared devices can change the speed, direction as well as torque of the power source. The gears in a transmission are analogous to the wheels in a crossed pulley system. The major advantage of gears is that their teeth maintain the grip and prevent slippage issues. When two gears mesh and one of them is larger than another, a mechanical advantage is created. This happens because of the rotational speed and the torque of two different dimensional gears in action. Gear Manufacturer in Gujarat use the latest technology to design high-quality gears, which can work seamlessly with the latest types of machinery across varied industrial segments. The manufacturing process is specifically focused to provide compatible products, which can manoeuvre themselves as per the changing trends and requirement.